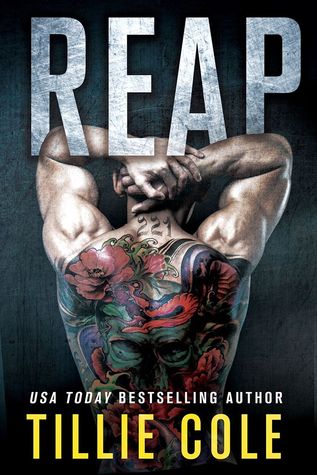 ****BLURB****
Raised as a prototype for the Georgian Bratva's obedience drug, 221 fails to think, act, or live for himself; he's his master's perfectly-crafted killing puppet. Standing at six-foot-six, weighing two-hundred-and-fifty pounds, and unrivaled in to-the-death combat, 221 successfully secures business for the Georgian Mafiya Boss of NYC, who rules the dark world of the criminal underground. Until his enemies capture him.

Talia Tolstaia dreams to break from the heavy clutches of Bratva life. She dreams of another life--away from the stifling leash of her Russian Bratva Boss father and from the brutality of her work at The Dungeon, her criminal family's underground death-match enterprise. But when she stumbles upon her family's captive who is more monster than man, she starts to see the man underneath. A powerful, beautiful, damaged man whose heart calls to hers. But sacrifices must be made--blood for blood...life for life...souls for scarred souls...
REAP (Scarred Souls #2)
Amazon US ~
http://amzn.com/B00ZON5LN4
Amazon UK ~
http://www.amazon.co.uk/dp/B01063XPYI
Amazon AU ~
http://www.amazon.com.au/dp/B01063XPYI
Amazon CA ~
http://www.amazon.ca/dp/B00ZON5LN4
B&N ~
http://www.barnesandnoble.com/w/reap-tillie-cole/1122137979…
iBooks ~
https://itunes.apple.com/us/book/reap/id1006559615?mt=11
Kobo ~
https://store.kobobooks.com/en-US/ebook/reap-2
****MY REVIEW****
Reviewed by: Akeisha
I received an ARC Via NetGalley in exchange for an honest review.

I read Reap a few hours before I started Raze. All the characters and emotions that I was feeling for Raze were still strong going into Reap and It could not have been more perfect. I can honestly say that Reap was so much better than Raze and believe me when I say, I loved Razed!!

I thought I was in love with 'Raze' in the first book but this book I saw another side of him. He was devoted to fulfilling his promise to #362 and doesn't care if his family doesn't approved. In his pursuit to find out more about #362 he finds out about Zaal.
This story was more about #212 also known as Zaal. #212 was not a cage fighter like #362 and #818(Raze) but he killed and found his thrust for fighting in other ways that was beyond his control.

Reap centered around Talia(Kisa's best friend and Luka's sister) and Zaal. I enjoyed slowly falling in love with both characters. I enjoyed watching Zaal slowly learn and become aware of so many things around him when the opportunity presented itself. It was like watching a baby experience the outdoors for the first time. When he was happy I was happy and when he was in pain my heart bled for him.

Every time he said "Because....you are ....for me...." OMG, this made my heart skip a beat every single time he said it. Swoon........ Zaal was all kinds of alpha and protective of Talia even though they were from two worlds.

Zaal: " I will gladly go, to save you. To let you live" **Inserts big fat tears here**

Overall, Reap made me laugh, cry like a baby but most of all I fell in love again with these great characters. Friendships were formed, love blossomed and enemies disappeared. This book had everything and what an epic ending. Tillie Cole is my go to author and if she never reads this review, that's OK my stalking skills will pay off and she will know how much I adore her lol.
A must read!!
Haven't read Book #1 Yet?
RAZE (Scarred Souls #1)
To take back life, one must first face death...

One man stripped of his freedom, his morals...his life.

Conditioned in captivity to maim, to kill and to slaughter, prisoner 818 becomes an unremorseful, unrivaled and unstoppable fighter in the ring. Violence is all he knows. Death and brutality are the masters of his fate.

After years of incarceration in an underground hell, only one thought occupies his mind: revenge...bloody, slow and violent revenge.

Revenge on the man who lied.

Revenge on the man who wronged him.

Revenge on the man who condemned him and turned him into this: a rage-fueled killing machine. A monster void of humanity; a monster filled with hate.

And no one will stand in the way of getting what he wants.

One woman stripped of her freedom, her morals...her life.

Kisa Volkova is the only daughter of Kirill 'The Silencer' Volkov, head of the infamous 'Triad' bosses of New York's Russian Bratva. Her life is protected. In reality, it's a virtual prison. Her father's savage treatment of his rivals and his lucrative and coveted underground gambling ring—The Dungeon—ensures too many enemies lurk at their door.

She dreams to be set free.

Kisa has known only cruelty and loss in her short life. As manager of her father's death match enterprise, only grief and pain fill her days. Her mafia boss father, in her world, rules absolute. And her fiancé, Alik Durov, is no better; the Dungeon's five-time champion, a stone-cold killer, the treasured son of her father's best friend, and her very own—and much resented—personal guard. Unrivaled in both strength and social standing, Alik controls every facet of Kisa's life, dominates her every move; keeps her subdued and dead inside...then one night changes everything.

While working for her church—the only reprieve in her constant surveillance—Kisa stumbles across a tattooed, scarred, but stunningly beautiful homeless man on the streets. Something about him stirs feelings deep within her; familiar yet impossibly forbidden desires. He doesn't talk. Doesn't communicate with anyone. He's a man beyond saving, and a man she must quickly forget...for both their sakes.

But when weeks later, out of the blue and to her complete surprise, he's announced as the replacement fighter in The Dungeon, Kisa knows she's in a whole lot of trouble. He's built, ripped and lethally unforgiving to his opponents, leaving fear in his wake and the look of death in his eyes.

Kisa becomes obsessed with him. Yearns for him. Craves his touch. Needs to possess this mysterious man...this man they call Raze.

Dark Contemporary Romance. Contains explicit sexual situations, excessive violence, disturbingly sensitive and taboo subjects, offensive language and mature topics. Recommended for age 18 years and up.
PURCHASE LINKS
Amazon US ~
http://amzn.com/B00ZON5LEI
Amazon UK ~
http://www.amazon.co.uk/dp/B00ZKFLFJU

Amazon AU ~ http://www.amazon.com.au/dp/B00ZKFLFJU
Amazon CA ~ http://www.amazon.ca/dp/B00ZON5LEI
B&N ~ http://www.barnesandnoble.com/w/raze-tillie-cole/1122137978…
iBooks ~ https://itunes.apple.com/us/book/raze/id1006566604?mt=11
Kobo ~ https://store.kobobooks.com/en-US/ebook/raze-3