Happy Release Day to Leylah Attar and her new book THE PAPER SWAN! Enjoy a sneak peek into the book below and make sure to enter the giveaway! This is a MUST READ to add to your TBR!
♥ Buy the Book ♥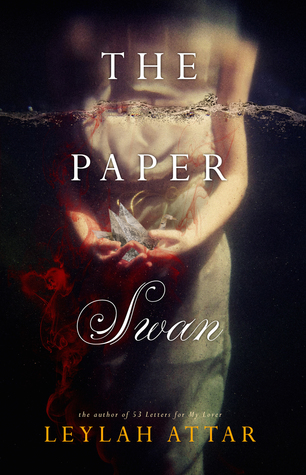 They say it takes 21 days to form a habit.
They lie.
For 21 days she held on.
But on Day 22, she would have given anything for the sweet slumber of death.
Because on Day 22, she realizes that her only way out means certain death for one of the two men she loves.
A haunting tale of passion, loss, and redemption, The Paper Swan is a darkly intense yet heartwarming love story, textured with grit, intrigue, and suspense. Please note: This is NOT a love triangle.
A full-length, standalone novel, intended for mature audiences due to violence, sex and language. Subject matter may be disturbing for some readers.
My Review:
If I could rate The Paper Swan a 10 star I would. I love romantic suspense and this story did not fail me.

After reading The Paper Swan I attempted to pick up two different books and could not. I found myself starting back at page 1 of The Paper Swan. I couldn't let the characters die in my head and every time I read it, it's like reliving an amazing story over and over again.

At the beginning, I did stop to reread the blurb because the story was turning into something I was not expecting. Even though, I was thrown off my chair a few times, I enjoyed every minute of where the author was taking the story. I cried, I rooted for the heroine Skye, I felt hatred towards Damian and I also experience a lot of lost in this story.

I know the characters weren't real but the author did such a great job with her descriptive writing that the world she created seemed real enough. I couldn't tell you how many times I ducked when a bullet was flying through the air (I know I'm a little insane here lol)

This story was told mostly from Skye and Damian's point of view with a little glimpse of Esteban. The story also included past memories which made you understand each character's struggles.

Damian Cabellero who are you? I think I am in love again. I don't really care what you've done but you captured my heart with your hardcore, killer attitude.

Skye: "Do you hear me?" I squealed. " I'm going to die."
Damian: "So die"

Even with a heart of ice there is no way you can't help but falling for him after seeing all that he has been through.

"Don't care about me," he said. "I am a selfish fucking bastard"

I could go on for days and let you know how much I loved this story but why would I? I want you to experience every heart gripping, tear jerking, heart felt moment on your own.


Overall, Leylah leaves you questioning yourself at every turn and when you think the story is going to go one way you are left in circles. The story was face paced, clear so that you aren't confused, dramatic, suspenseful and heart wrenching.

Completely blown away!!!!!


Favorite quotes:
Damian: "I ache where you're supposed to be, Skye, and I'm not going to stop until you're mine. So we can draw this out or we can quit wasting more time. Either way, your going to end up right here. Me about to fuck you"


"Love don't die"

"If I die tonight, I want to die remembering what it was like to hold the whole world in my hands"



Leylah Attar writes stories about love - shaken, stirred and served with a twist. When she's not writing, she can be found pursuing her other passions: photography, food, family and travel. Sometimes she disappears into the black hole of the internet, but can usually be enticed out with chocolate.